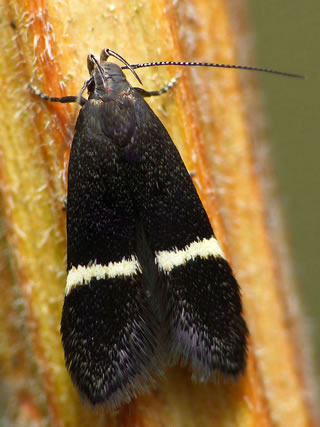 Listed below are the sets of Vice County records of the Gelechiidae submitted to the Gelechiid Recording Scheme by (Vice) County Moth Recorders (CMR), Local Record Centres, or more recently via the National Moth Recording Scheme with an approximate period of the latest records received.
It should be noted that additional sets of data have also been submitted by a few individual recorders or extracted from Museum collections and published sources. Where no data has been submitted by the CMR but data as above is held by the Scheme this is annotated with an *.
A full Vice County database can be made available to the appropriate County Moth Recorder on request to the Scheme - contact s.palmer12(at)btopenworld.com
The distribution maps present on this website are updated on a biannual basis.
The Scheme is extremely grateful to all of the County Moth Recorders, Butterfly Conservation (NMRS) and many other individuals and Records Centres who send in their data.
| | | |
| --- | --- | --- |
| Vice County | County / Region | Data up to: |
| VC 1 | W. Cornwall | End 2020 |
| VC 2 | E. Cornwall | End 2020 |
| VC 3 | S. Devon | End 2022 |
| VC 4 | N. Devon | End 2022 |
| VC 5 | S. Somerset | End 2021 |
| VC 6 | N. Somerset | End 2021 |
| VC 7 | N. Wilts | End 2015 & 2018-20 |
| VC 8 | S. Wilts | End 2015 & 2018-20 |
| VC 9 | Dorset | End 2015 |
| VC 10 | Isle of Wight | End 2020 |
| VC 11 | S. Hants | End 2017, + pt. 2018-1 |
| VC 12 | N. Hants | End 2017, + pt. 2018-19 |
| VC 13 | W. Sussex | End 2020 |
| VC 14 | E. Sussex | End 2020 |
| VC 15  | E. Kent | End 2014 |
| VC 16 | W. Kent | End 2015 |
| VC 17 | Surrey | End 2016 |
| VC 18 | S. Essex | End 2020 |
| VC 19 | N. Essex | End 2020 |
| VC 20 | Herts. | End 2020 |
| VC 21 | Middx. | End 2020 |
| VC 22 | Berkshire | End 2016 |
| VC 23 | Oxfordshire | End 2016 |
| VC 24 | Bucks | End 2019 |
| VC 25 | E. Suffolk | End 2022 |
| VC 26 | W. Suffolk | End 2022 |
| VC 27 | E. Norfolk | End 2019 |
| VC 28 | W. Norfolk | End 2019 |
| VC 29 | Cambridgeshire | End 2016 |
| VC 30 | Beds | End 2019 |
| VC 31 | Hunts | End 2019 |
| VC 32 | Northants | End 2015 |
| VC 33 | E. Gloucs | End 2019 |
| VC 34 | W. Gloucs | End 2016 |
| VC 35 | Monmouthshire | End 2016 |
| VC 36 | Herefordshire | End 2021 |
| VC 37 | Worcestershire | End 2020 |
| VC 38 | Warwickshire | End 2016 |
| VC 39 | Staffordshire | End 2020 |
| VC 40 | Shropshire (Salop) | End 2022 |
| VC 41 | Glamorgan | End 2016 |
| VC 42 | Breconshire | End 2020 |
| VC 43 | Radnorshire | End 2020 |
| VC 44 | Carmarthenshire | End 2016 |
| VC 45 | Pembrokeshire | End 2020 |
| VC 46 | Cardiganshire | End 2021 |
| VC 47 | Montgomeryshire | End 2016 |
| VC 48 | Merioneth | End 2019 |
| VC 49  | Caernarvonshire | End 2019 |
| VC 50 | Denbighshire | End 2019 |
| VC 51 | Flintshire | End 2020 |
| VC 52 | Anglesey | End 2019 |
| VC 53  | S. Lincolnshire | End 2016 |
| VC 54 | N. Lincolnshire | End 2016 |
| VC 55 | Leicestershire | End 2019 |
| VC 56 | Nottinghamshire | End 2015 |
| VC 57 | Derbyshire | End 2016 |
| VC 58 | Cheshire | End 2016 |
| VC 59 | S. Lancaster | End 2022 |
| VC 60 | W. Lancaster | End 2022 |
| VC 61 | SE. Yorkshire | End 2022 |
| VC 62 | NE. Yorkshire | End 2022 |
| VC 63 | SW. Yorkshire | End 2022 |
| VC 64 | Mid-W. Yorkshire | End 2022 |
| VC 65 | NW. Yorkshire | End 2022 |
| VC 66 | Durham | Nov. 2023 |
| VC 67 | Northumberland South | End 2016 |
| VC 68 | Cheviotland (Northumberland N) | End 2016 |
| VC 69 | S Cumbria (Westmorland) | End 2022 |
| VC 70 | N Cumbria (Cumberland) | End 2022 |
| VC 71 | Isle of Man | End 2021 |
| VC 72  | Dumfries | Early 2017 |
| VC 73 | Kircudbright | Early 2017 |
| VC 74 | Wigtown | Early 2017 |
| VC 75 | Ayrshire | End 2020 |
| VC 76 | Renfrewshire | End 2016 |
| VC 77 | Lanarkshire | Mid-2021 |
| VC 78 | Peebles | End 2020 |
| VC 79 | Selkirk | Aug 2021 |
| VC 80 | Roxburgh | Aug 2021 |
| VC 81 | Berwickshire | Aug 2021 |
| VC 82 | East Lothian (Haddington) | End 2019 |
| VC 83 | Midlothian (Edinburgh) | End 2015 |
| VC 84 | West Lothian (Linlithgow) | End 2019 |
| VC 85 | Fife | End 2020 |
| VC 86 | Stirlingshire | End 2016 |
| VC 87 | West Perthshire | End 2016 |
| VC 88 | Mid Perthshire | End 2019 |
| VC 89 | East Perthshire | 2022 data |
| VC 90 | Forfar | End 2020 (P. Brooks only) |
| VC 91  | Kincardineshire | Mid-2021 |
| VC 92 | S. Aberdeen | End 2016 |
| VC 93 | N. Aberdeen | End 2016 |
| VC 94 | Banffshire | End 2016 |
| VC 95 | Elgin (Morayshire) | End 2020 |
| VC 96 | Easterness | End 2020 |
| VC 97 | Westerness | End 2016 |
| VC 98 | Argyll | End 2020 |
| VC 99 | Dunbarton | End 2019 |
| VC 100 | Clyde Ises | End 2021 |
| VC 101 | Kintyre | End 2020 |
| VC 102 | South Ebudes | End 2019 |
| VC 103 | Mid. Ebudes | End 2020 |
| VC 104 | N. Ebudes | End 2021 |
| VC 105 | West Ross | Mid-2013 |
| VC 106 | East Ross | Aug. 2021 |
| VC 107 | East Sutherland | End 2016 |
| VC 108 | West Sutherland | End 2020 |
| VC 109 | Caithness | End 2016 |
| VC 110 | Outer Hebrides | Aug. 2021 |
| VC 111 | Orkney | End 2016 |
| VC 112 | Shetland (including Fair Isle) | End 2019 (F.I., end 2021) |
| VC 113 | Channel Islands | End 2012 |
| VCH Northern Ireland | All counties | End 2015 |
| VCH Ireland | All counties | End 2015 |