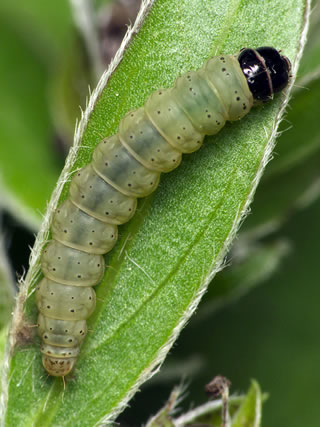 This scheme promotes the use of the County/Vice County Moth Recorder (CMR) system and contributors are requested to send records via this route whenever possible.  A full list of CMRs can be found by following the link to County Recorders.  If you experience difficulties submitting data to the Scheme via this route please send your records direct (see details below) in any of the formats mentioned. The scheme organisers will endeavour, where possible, to repatriate data to the relevant CMR.
Excel file (preferred), MS Word file, Handwritten lists
Records should include:
Species name (scientific) - the Agassiz, Beavan and Heckford number are not essential
Site name (Geographical location - not 'My Garden'!), Grid reference (six or eight digits if possible - NOT ten digit) and Vice County number
Date, in full. Please note that when a moth is bred, the date listed should be when the larva/pupa was found, not the date the moth emerged
Quantity and Stage (eg adult, larva)
Recorder and Determiner names. If identification is provided online, the proper name of the identifier (not a pseudonym) should be listed under the determiner
Method (eg light trapping, larval, field observation etc)
Comments (eg bred ex larva; dissected, foodplant)
If not via CMR, email to: s.palmer12[at]btopenworld.com
Extracting data from MapMate in tab text file format
If you use MapMate then please follow the method detailed below.
Please check you have the new "Gelechiid Scheme" filter installed and use that to create an Atlas for this family (the filter can be obtained via the 'patches' section on the MapMate website).
To create a Gelechiid Atlas, select File – New Map - Atlas Wizard.  Click on National Gelechiid Scheme in the first box and your vice county (counties) in the second box.  Complete the atlas as per usual.
Open the Gelechiid Atlas and enter the date range covered by your records eg 1800 to 2014 in the Data Entry box and press Enter.
On the Data Entry form menu click on Query / Records in Export Format and the records for the relevant years will appear. It is slightly confusing to call this export format, as it is the format you require for importing records into Mapmate, so no formatting of the field order or headings is required.
Click on the Select all icon to select all the records, then rather than copying the data, which as you know takes absolutely ages for a large number of records, click on the yellow Save selection icon. This will save the data as a tab-text file in the Output folder in the MapMate Program files folder and probably takes about 10% of the time it takes for MapMate to copy the same amount of data! This also gets around the need to paste the data into multiple Excel files.
Locate the tab-text file in the Output folder in the MapMate Program files or My Mapmate folder, right-click on the file and select copy. Paste the file into My Documents and attach file to an email, send to: s.palmer12[at]btopenworld.com
nb please substitute [at] with @ when emailing us