35.008
Aproaerema suecicella

(Wolff, 1958)
Aproaerema suecicella
Status and Distribution
NB - Syncopacma has now been synonymised with Aproaerema.
Known only from a single restricted area in Cornwall.  It has been searched for, without success, in other Cornish localities and at a site in Pembrokeshire where the foodplant occurs in abundance.
Bradley & Fletcher no: 848a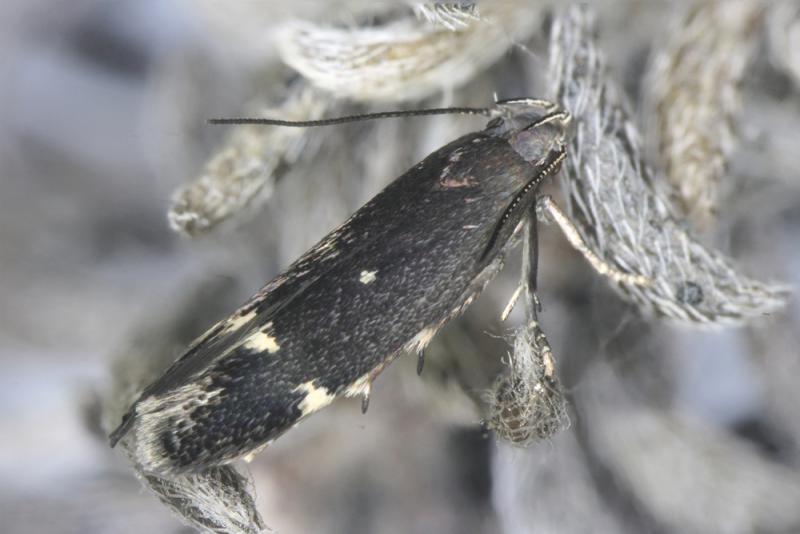 Photographer:
© R J Heckford
Habitat
Rocky cliff tops in maritime grassland or heath.
Finding the Moth
Larva: feeds between spun leaves, often mining them, usually at or near the tip of a stem.
Adult: unknown.
The larval foodplant, hairy greenweed, also occurs on the Pembrokeshire coast. Initial searches of one Pembrokeshire location in mid-June 2015, where the plant is present in good numbers, did not reveal any signs of larval feeding. Searches in May should be considered.
In view of the scarcity of this moth, it is sensible that no more than a single voucher specimen is retained for identification puposes, particularly if the moth is suspected away from its single known site.
Similar Species
Its small size, at 8-9mm wingspan the smallest of the Aproaerema species, and the usual small cluster of white dots on the forewing at two-fifths should help to distinguish this species.
Single brooded from June to July.