35.084
Athrips rancidella

(Herrich-Schäffer, 1854)
Athrips rancidella
Status and Distribution
Very local, found mainly in Surrey, West Kent and a small area of Middlesex. The moth was first discovered in Britain in 1971 at West Wickham, Kent, and in the intervening years it has not shown any strong inclination to extend its core range until 2021. Between the 25th July and 8th August 2021 and again in 2022 a few were found in Oundle, Northamptonshire, indicating an established colony.
Bradley & Fletcher no: 761a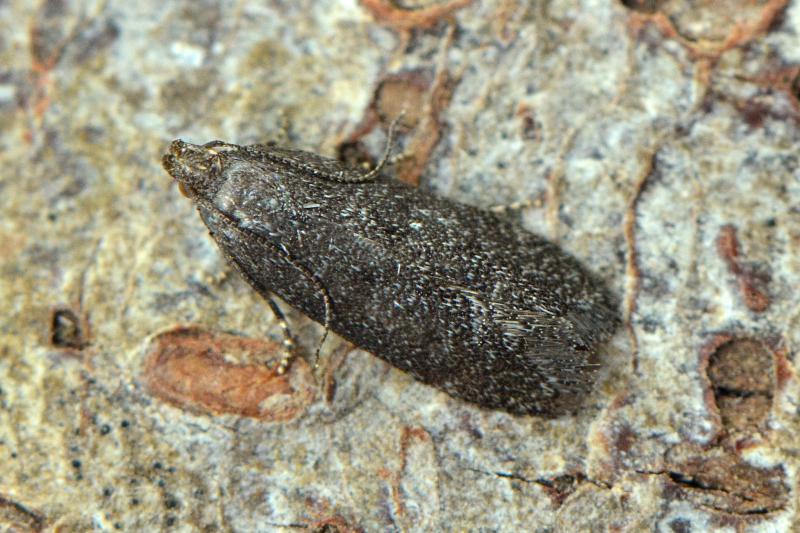 Photographer:
© V Proklov
Foodplant and Larval Feeding Signs
Cotoneaster horizontalis (wall cotoneaster), see plant distribution map.
In Europe it has also been noted on 'Cerasus' (cherry), Crataegus sp.(hawthorn) and Prunus spinosa (blackthorn); doubtfully recorded on 'Frangus' = Frangula alnus (alder buckthorn).
Constructs an untidy off-white silk tube along the side of a twig, sometimes extending onto adjacent leaves and twigs.
Habitat
Gardens, where cotoneaster occurs.
Finding the Moth
Larva: found in a messy off-white silk tube along the sides of the twigs, occasionally extending the silk onto the leaves and adjacent twigs. The larva eats the underside of the leaf leaving a transparent upper epidermis which turns slightly brown and withers disfiguring the bush. The pupa is in a dense white cocoon amongst the larval feeding. Acrobasis suavella also makes a dense feeding web on Cotoneaster - either checking the larva or breeding the moth may be necessary to check which species is involved.
Adult: comes readily to light.
Similar Species
Its dark fuscous forewing with a slightly mottled appearance due to paler scale bases and, in the final third, paler tips to the scales, are unlike any other British species. An elongate pale fuscous spot at the tornus, and opposite on the costa, can extend to form an indistinct angled fascia.
Single-brooded, from June to early August.
Earliest: 1st June 2011 (VC17).
Latest: 14th August 1984 (VC16).