35.092
Mirificarma lentiginosella

(Zeller, 1839)
Mirificarma lentiginosella
Status and Distribution
Local in southern England, very local in central and northern England and a single old record from Pembrokeshire, Wales. Absent from Scotland, Ireland, Isle of Man and the Channel Islands.
Not recorded since 1980 in one third of the vice counties for which records are known suggesting a decline in line with that of its foodplant. Despite this, good numbers of the moth were found in Northumberland for the first time in 2013, suggesting that targeted searches could perhaps yield records from some of its old haunts or new localities.
National Status: Nationally Scarce A
Bradley & Fletcher no: 793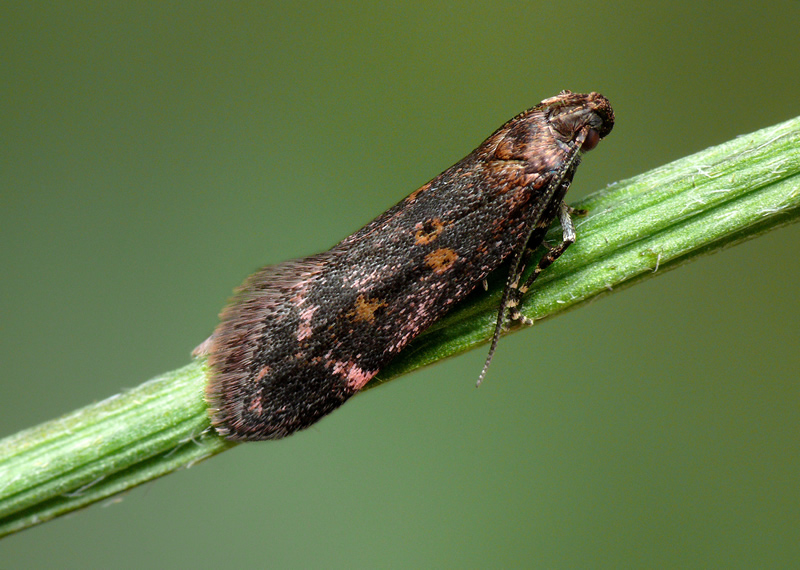 Photographer:
© O Wadsworth
Habitat
Finding the Moth
Larva: feeds within spun terminal shoots.
Adult: can be swept from amongst the foodplant and readily comes to light.
Similar Species
Best separated from other brown gelechiids by the presence in the forewing of the ochreous edged black spot and the pinkish apical spot. Worn specimens may require dissection.
Single brooded in August. July is mentioned in the Moths and Butterflies of Great Britain and Ireland Vol 4 (2) but, to date, no July records have been received by the Scheme. Most records on the database are of bred moths where dates are not taken into account in the flight graph.
Earliest: 4th August 1920 (VC24)
Latest: 2nd September 1999 (VC9)