35.067
Monochroa conspersella

(Herrich-Schäffer, 1854)
Monochroa conspersella
Status and Distribution
Only recorded with any regularity in the Fens of East Anglia. A rare moth of eastern and south-east England.
Bradley & Fletcher no: 739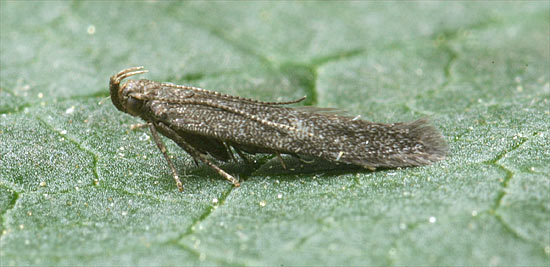 Photographer:
© J B Higgott/Jeffhiggott.com
Foodplant and Larval Feeding Signs
Lysimachia vulgaris (yellow loosestrife), see plant distribution map.
In Europe also suggested to use closely related Lythrum species (according to Sokoloff, P. A. & Bradford, E., 1993 - Br. J. Ent. Nat. Hist., 6: 39) but this is doubted by other sources. Lotus corniculatus (birds-foot-trefoil) has also been mentioned but this is probably based on an error (Sattler, 1974 - Ent. Gaz. 25: 277-282). 
The larva initially mines the tips of leaves in autumn and then overwinters. From May to June making loose spinnings in a terminal shoot from where it mines into the stem; occasionally consumes young leaves.
Habitat
Almost exclusively a moth of fens and marshes but with single records from two locations away from fenland habitat (in 1981 and 1994). The latter are within the known range of the foodplant but no details are known of the precise habitat in which they were encountered. It should be noted there is a continetal species very similar to C. conspersella - see note under Similar Species.
Finding the Moth
Larva: can be found as a leaf-miner in the autumn and in spring feeds within a loose spinning in a terminal shoot. It then mines within the stem and occasionally consumes young leaves, pupating externally in June.
Adult: comes to light.
Similar Species
The forewing of Monochroa conspersella is faintly tinged purplish when fresh becoming brownish black as it wears, and sometimes has a pale oblique mark on the costa (leading edge) at three-quarters. There is a general sprinkling of paler scales throughout, but it is otherwise quite similar to Monochroa hornigi and Monochroa elongella. When worn specimens are encountered there may also be the potential for confusion with M. arundinetella or Eulamprotes immaculatella.
M. elongella has white rings on the antenna and, when the wings are opened, an ochreous-yellow base to the abdomen can be seen; this area is fuscous in M. hornigi and M. conspersella. A pale band is present at the tip of the hind tibia of M. hornigi.
M. arundinetella usually has one or more small whitish costal spots in the apical third of the forewing but these are sometimes indistinct. There is a dark costal streak near the base of the forewing extending to the middle and the frons (front of the face) and labial palps are whitish.
In Central and Northern Europe, the very similar looking Monochroa servella (Zeller) feeds on Primula species including P. veris (cowslip) and P. farinosa (bird's-eye primrose). It is believed there are differences in the palps but I have not been able to translate the text. Habitat differences should assist if this species is suspected and photos of the male genitalia can be found on http://www.lepiforum.de/lepiwiki.pl?Monochroa_Servella
Being a small, dark fuscous moth with an indistinct pale costal streak (which can sometimes be absent), care should be taken with identification. Dissection is advisable if there is any doubt, particularly if found at sites away from the usual fenland habitat or outside the limited range of the foodplant.
January, February, March, April, May, September, October, November, December
Single brooded, during July and early August.
Earliest: 15th June 2002 (VC27)
Latest: 6th August 1927 (VC29)