35.072
Monochroa divisella

(Douglas, 1850)
Monochroa divisella
Status and Distribution
Rare, mainly a moth of the Fens and Broads of East Anglia but since 1989 it has only been recorded at one of these sites (in 2010). There have been a few other well scatttered, single records from elsewhere in England (Somerset in 1936, Yorkshire in 1950 and Dorset in 2001), the latter at light as a possible vagrant.
Bradley & Fletcher no: 745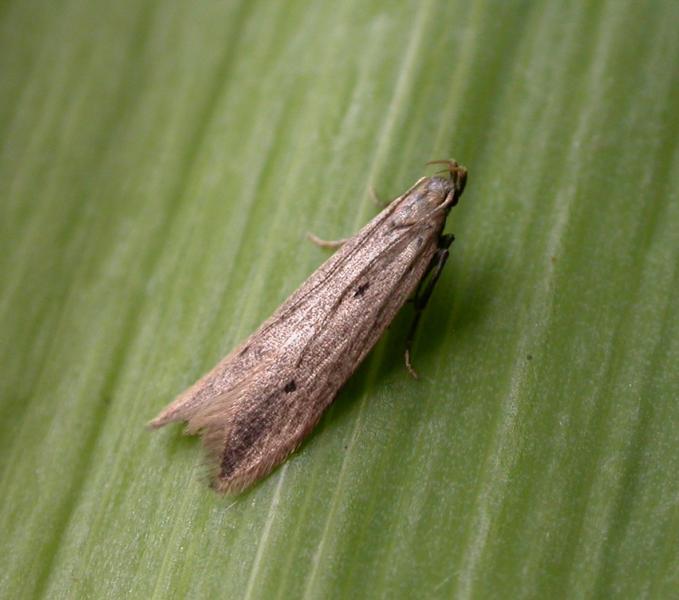 Photographer:
© J Clifton
Foodplant and Larval Feeding Signs
Unknown.
In Europe reported on Iris spp., mainly Iris pseudacaros the larva being present during May to early June. See Prins, W. De (2005): Monochroa divisella, a new species for the Belgian fauna (Lepidoptera: Gelechiidae). — Phegea 33 (1): 37-40.
In De Prins 2005 it is stated, "The caterpillar of M. divisella makes a deep blotch mine in the leaves of Iris sp., mainly Iris pseudacorus, and stays in the mine until it is full-fed (Hering 1957: 567). It prefers fenland and similar damp biotopes (Bland et al. 2002: 93). Doets (1949) wrote that he found the mines only on plants growing under Salix trees (Ellis 2003). This seems to be case in the Belgian locality as well (M. Jacobs, pers. comm.)."
Finding the Moth
Larva: unknown in the British Isles. In Europe the larva makes a full depth blotch mine on Iris in May and early June.
Adult: comes to light.
Similar Species
One of the largest Monochroa spp. (wingspan 15-16mm) with two prominent blackish spots on each wing and rather contrasting lighter and darker buff upper third (lighter) and lower two thirds (darker) to the forewings.
Reported as being on the wing in June and July but there are very few records with full dates on the Scheme database.
Earliest: 29th June 2010 (VC27)
Latest: 1st August 1891 (VC29)