35.161
Parachronistis albiceps

(Zeller, 1839)
Parachronistis albiceps
Status and Distribution
Widespread but local, occasionally locally common, in England from the Midlands southwards; very local in south-west England, Nottinghamshire, Yorkshire, Wales and the Channel Islands. Not recorded in northern England, Scotland, Isle of Man or Ireland.
Bradley & Fletcher no: 756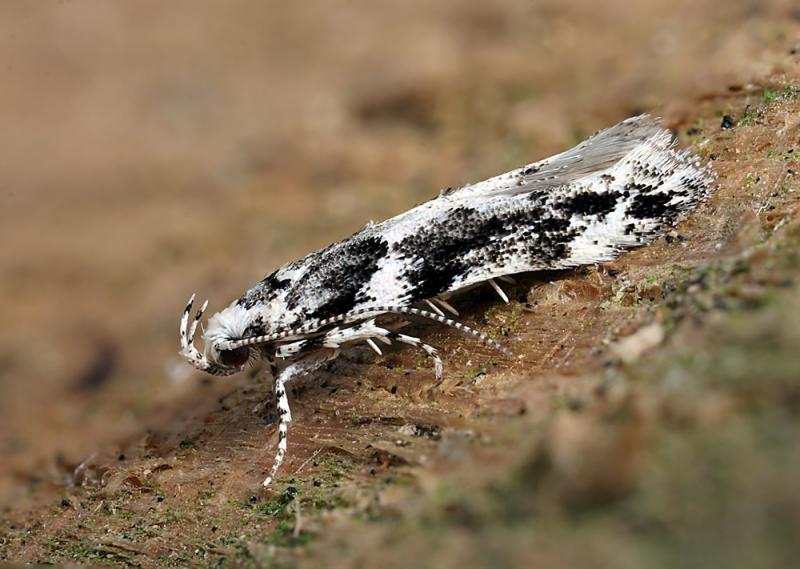 Photographer:
© P Clement
Foodplant and Larval Feeding Signs
Corylus avellana (hazel), see plant distribution map, Betula sp. and Salix sp. (probably S. caprea).
In Europe also reported from Ulmus spp. (elm) and Prunus persica (peach).
Feeds within a bud.
In 2012, bred from a slight gall on Betula (birch) in Warwickshire. On 30th April 2019, a larva was found mining a wilted shoot of a large rough-leaved Salix (probably S. caprea - goat willow) in Glos. VC33 (G Meredith) - a dead moth was found in the breeding pot on 4th June 2019.
Habitat
Woodland, mature hedgerows with standards (older isolated trees) and mature trees by a stream.
Finding the Moth
Larva: feeds in the bud.
Adult: can be found resting on tree trunks and fences and comes readily to light. Has been light-trapped in areas of young birch growth alongside oak woodland, below small-leaved lime canopy with oak standards nearby, found on oak and old pear trunks and in amongst alder in a grassy area by a stream.
Similar Species
The pure white to cream-white head and black and white forewing markings with some small scale tufts are diagnostic for this small, narrow-winged gelechiid.
Single brooded from early June to early August.
Earliest: 17th May 2009 (VC16).
Latest: 28th August 2002 (VC41).