35.160
Stenolechia gemmella

(Linnaeus, 1758)
Stenolechia gemmella
Status and Distribution
Widespread but local over much of England, apparently very local in south-east and south-west England and Wales. Single records only from Ireland (in the south-west) and the Channel Islands (Jersey); not recorded in Scotland.
Bradley & Fletcher no: 755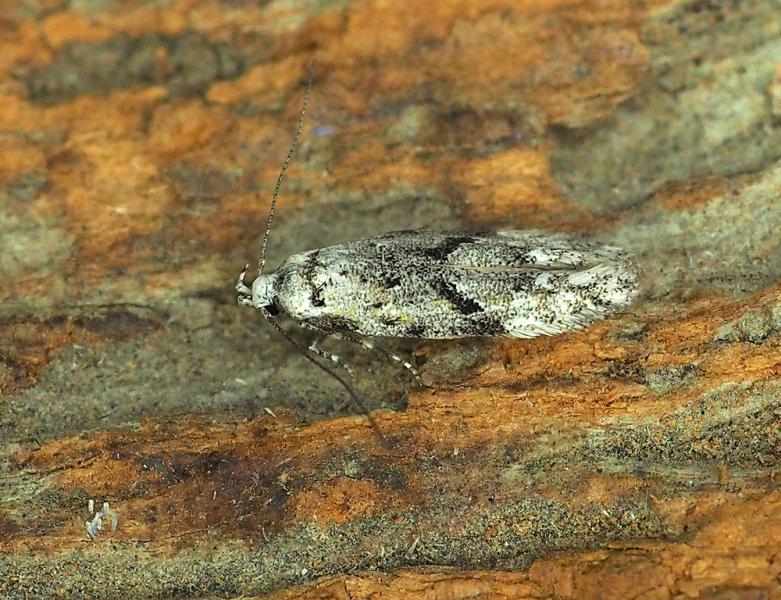 Photographer:
© P Parsons
Foodplant and Larval Feeding Signs
Quercus spp. (oak), including Q. robur. See plant distribution map for Q. robur (sessile oak).
The egg is laid on a twig, at least 2m off ground but it is unknown when the egg hatches.
The larva then bores into a bud or shoot and mines the green stem, making one, sometimes two (rarely more) small holes from which the frass is ejected. A small swelling is present on the infected green stem. Leaves and stem can show early slight drooping, becoming more obvious as feeding continues. Later, there is some darkening of the leaves and stem.
The larva usually vacates the mine to pupate, but on one occasion pupation took place in the mined stem. For more details see under S. gemmella, Heckford & Beavan, 2022 - full reference in Published Papers section of this website.
Habitat
Oak woodland and isolated mature oaks in hedgerows and parks.
Finding the Moth
Rests on oak trunks in bark crevices during the day.  At night is attracted to light.
Similar Species
The much smaller size and narrow, pointed wings distinguish it from some of the more variable Carpatolechia species, particularly when a more fuscous infused specimen of S. gemmella is encountered.
Stenolechiodes pseudogemmellus is a central and south-eastern European species that is very similar to S. gemmella but flies in April and May. The May 2013 British record of S. gemmella was critically examined to exclude this species.
Single brooded, from late June to mid-September. One recent confirmed record involved a female found in a light trap on 4th May 2013, confirmed by dissection. It should be noted that a very similar species (Stenolechiodes pseudogemmellus) occurs in central Europe and flies in April and May - this species was excluded in this case.
Earliest: 26th June 2009 (VC49)
Latest: 30th September 2011 (VC58)